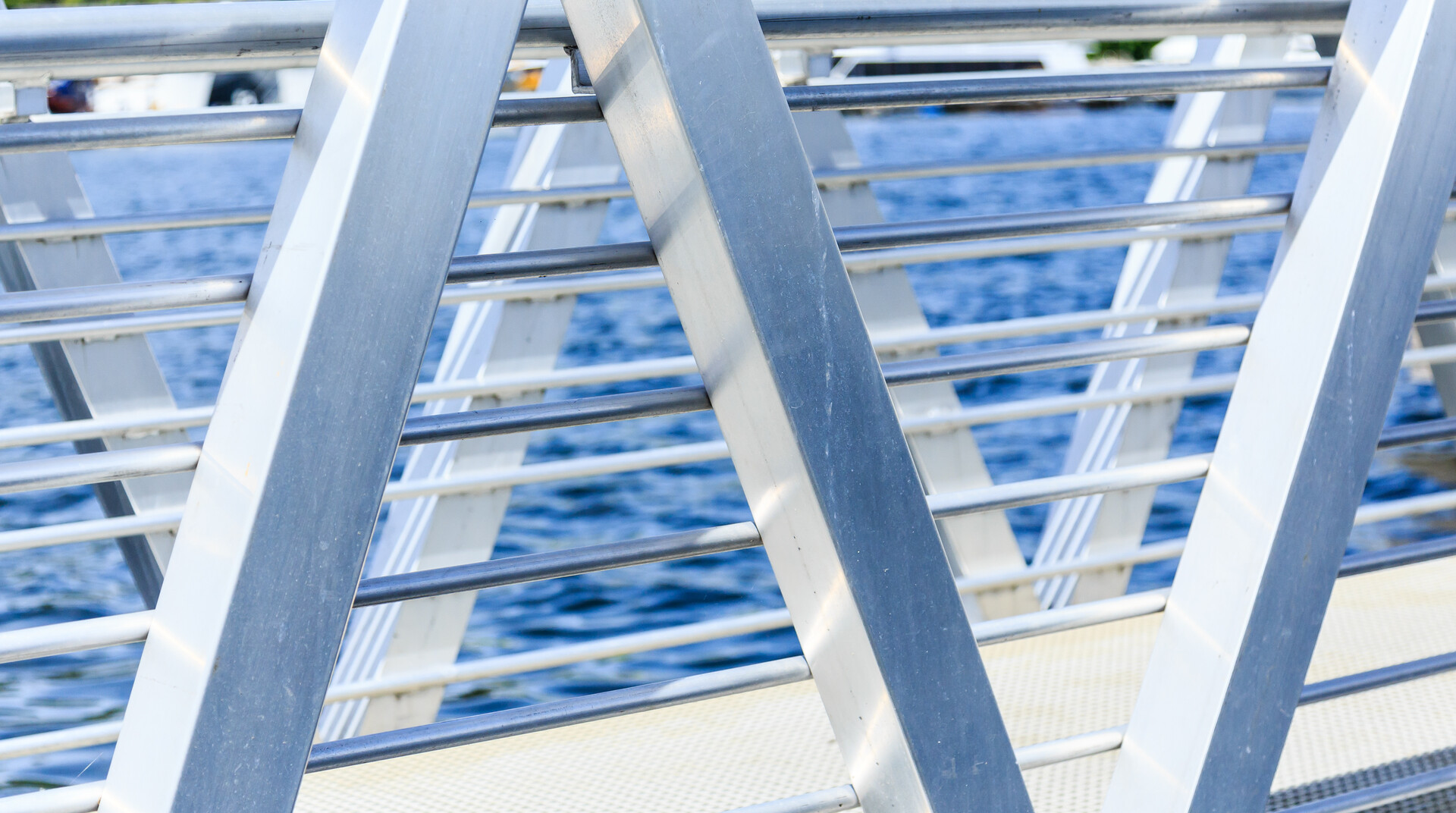 U.S. aluminum firms rely on modern and reliable infrastructure—from roads and bridges to the electric grid to recycling systems. And durable, recyclable and lightweight aluminum is a material tailor-made for 21st century infrastructure projects.

Building America means building with aluminum.
Aluminum Infrastructure Agenda
Aluminum is an essential material for American infrastructure, supporting aerospace, transportation, construction, electrical transmission and many other new and innovative markets. The metal is designated by the U.S. Geological Survey as critical to the U.S. economy and has been recognized by the Departments of Commerce and Defense as "vital" to national security. The United States will need to produce more aluminum – both primary and secondary – to meet growing demand for this sustainable material in the 21st century. This will require both innovations and increased efficiency from the industry, as well as investment from the public sector. As demand for aluminum grows, the U.S. must work to ensure that more of this material is made domestically to enhance national resiliency, self-sufficiency and a more circular economy.
The Aluminum Association supports:
Strong domestic aluminum supply chains: Adopt a coordinated federal strategy that supports innovation and invest in the long-term stability of primary aluminum production. Fund the deployment of technology to increase U.S. production of high purity aluminum. And facilitate crucial supply chain partnerships. This might include grants or forgivable loans for capital investment in next generation, low carbon aluminum production.   
Shortening permitting time for critical infrastructure: Significantly shortening the permitting and approval process for essential infrastructure projects.
Aluminum is used extensively as a material in large public building projects, combining beauty with functionality with a high strength to weight ratio, corrosion resistance and desirable thermal properties. And aluminum's durability means it lasts for decades, reducing maintenance costs. When used for construction, aluminum structures can weigh substantially less than steel while providing comparable strength. Aluminum can also help qualify a building for green building status under the Leadership in Energy and Environmental Design (LEED) framework. Improving buildings supports high-tech manufacturing, increases operational efficiencies, reduces carbon emissions and improves livability.
The Aluminum Association supports:
Increased investment in building infrastructure: Fund efforts to improve public building infrastructure like schools, hospitals, airports, transit stations and similar public works.
Incentives for green building programs: Use advanced technology and energy management practices to boost energy efficiency in buildings. Support standards for existing commercial, industrial and residential buildings that encourage new investment. And expand the buildout of energy-efficient buildings that last longer and reduce operating costs.
The U.S. aluminum industry relies on the scrap generated by recycling as a crucial input for producing new aluminum products. Aluminum is unique in that it can be recycled infinitely without losing its quality. Over the last 40 years, the industry has more than doubled the amount of aluminum it collects for recycling each year. While the recycling rate in most industrial aluminum markets – including transportation – exceeds 90%, the U.S. consumer recycling rate for aluminum beverage cans is below 50%. Aging municipal recycling infrastructure and changes in the marketplace have combined to reduce this rate in recent years. Americans throw away some $800 million worth of aluminum each year, a massive loss to the economy and the environment. Improving the nation's consumer recycling system would put some of this material back to productive use and shore up domestic aluminum supply chains. 
The Aluminum Association supports:
Increased investment in the U.S. recycling system: Creating a recycling infrastructure fund that awards grants on a competitive basis could increase recycling rates, expand curbside recycling programs and improve recycled material quality. Even relatively small investments in new technology like eddy current separators can significantly increase aluminum capture rates and pay for themselves in a matter of months.
Reforms to the existing recycling system: Consider well-designed container deposit programs, pay-as-you-throw, landfill tipping fees and other programs as part of a national strategy to increase recycling. Learn more here.
Sustainable energy generation depends on aluminum; it enables renewable energy projects and energy storage. More than 85% of solar photovoltaic components are made from aluminum, allowing us to more efficiently capture sunlight and turn it into energy. And recent breakthroughs in aluminum-ion battery technology allow for both high-capacity storage and ultrafast charging in a wide range of applications (like our vehicles, phones and tablets), creating a future possibility for much better batteries. Aluminum is the most widely used material in electricity transmission and distribution today. At about half the weight of copper and a lower price point, aluminum wire and cable allows utilities to run transmission lines with less upfront cost and with far fewer supporting structures. It is time to modernize the nation's aging patchwork system of power generating plants, transmission and distribution lines and substations to power the growing demands for sustainable electricity in the 21st century.
The Aluminum Association supports:
Increased investment in the electric grid: Carry out projects to modernize the electric grid, for distributed system technologies and renewable electricity generation. Promote the development of microgrid systems for isolated communities and increase the resilience of critical infrastructure. Establish a strategic transformer reserve to improve grid resilience.
An emphasis on renewable energy projects and programs: Utilize wind, solar and other renewable energy technologies as appropriate to create a resilient grid while reducing carbon emissions.
The U.S. aluminum industry relies on reliable roads, bridges, tunnels and other infrastructure to transport millions of pounds of metal across the country each year. Shipping this material safely and efficiently is vital to our business. Aluminum itself is also vital to building the transportation systems of tomorrow. Its durability and non-corrosive properties make it a perfect match for many transportation system applications, including lower-maintenance roads and bridges. And its lightweight strength and conductive properties make it essential for both the electric vehicles of the future and their charging stations.
The Aluminum Association supports:
Increased investment in transportation systems: Fund significant investment in surface transportation projects. According to the American Society of Engineers, more than 40% of our public roadways are in poor or mediocre condition. It's time to do better.
New bridges that are built to last: Encourage states to consider a bridge's full life cycle cost in their procurement processes to ensure that new bridge projects are designed for modern transportation. Aluminum alloys allow for less maintenance and a greater service lifespan for a lower cost over the entire life cycle of a bridge. 
Higher maximum truck weight limits: Increase the federal truck weight limit to 91,000 pounds. This would alleviate the truck freight capacity and driver shortage while easing congestion and maintaining high safety. Congress should also allow states to increase truck weight limits on Interstate Highway System roads if those trucks are equipped with an additional sixth axle. Manufacturers can better contribute to the economy when goods and services flow efficiently. 
21st century electric vehicle infrastructure: Dramatically expand the number of electric vehicle charging stations nationwide. Despite the growing demand for electric vehicles, the nation does not yet have the necessary charging infrastructure to support widespread adoption.
Aluminum makes America.
America's infrastructure is the backbone of our economy—from the roads we drive and the buildings where we work, to the electric grid that powers us and the recycling system that returns valuable materials. A significant federal investment to modernize our nation's infrastructure will create jobs, boost economic growth and save lives.
As the sustainable material of choice, aluminum will play a critical role in building this new infrastructure.