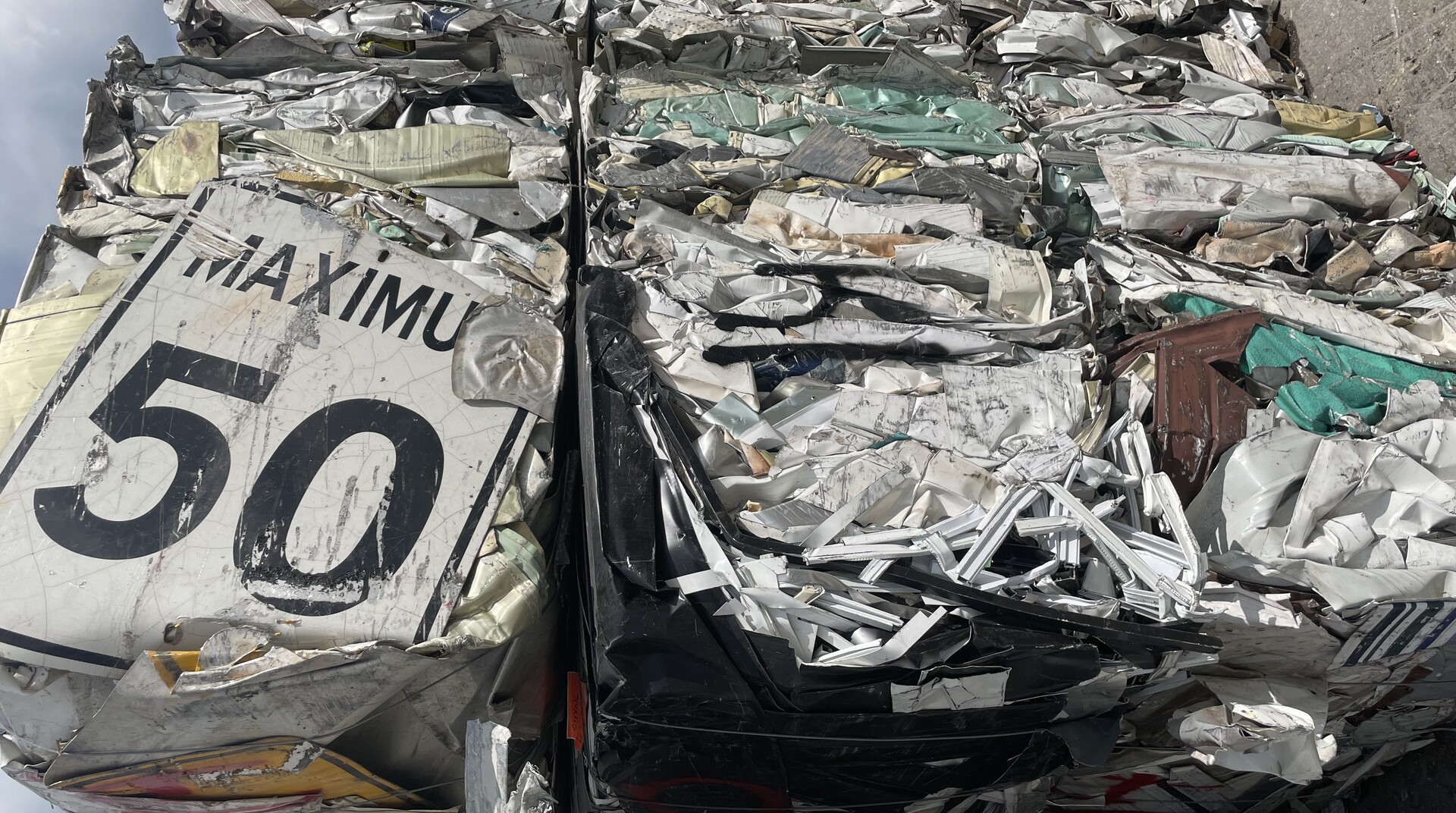 Recycling is essential to the modern aluminum business and provides critical raw material for the US aluminum supply chain. Recycled (or secondary) aluminum is around 95% less energy-intensive to produce than new (or primary) aluminum. And aluminum can be recycled infinitely.

That's why 75% of all aluminum ever produced is still in use today.
Aluminum Recycling Agenda
Aluminum cans are the most sustainable beverage packaging type in virtually every way. With better recycling rates and far higher recycled content than glass or plastic, aluminum cans are tailor-made for a more circular economy. Aluminum cans are also the most valuable material in the recycling stream – effectively subsidizing the cost of recycling for less valuable materials. According to The Recycling Partnership's 2020 State of Curbside report, aluminum packaging represents only 3% of the weight but nearly half of the economic value of recyclable material generated by all U.S. single-family homes. Yet aging infrastructure and changes in the marketplace have pushed aluminum can recycling rates in recent years down below 50%. Responsible, comprehensive and sensible consumer recycling policy is needed to reverse these trends. 
Yet aging infrastructure and changes in the marketplace have pushed aluminum can recycling rates in recent years down below 50%. Each year, Americans throw away around 45 billion aluminum cans. That's the equivalent of every man, woman and child in the U.S. sending nearly a dozen 12-packs to a landfill rather than a recycling center. The $800 million in annual economic loss associated with these landfilled cans is particularly egregious because aluminum cans can be recycled infinitely – easily and economically. By reversing these trends, the energy saved by recycling 100% of aluminum cans could power 4.1 million houses for a full year. 
Responsible, comprehensive and sensible consumer recycling policy is needed to achieve this goal. 
The Aluminum Association supports:
Well-designed container deposit laws: Maintain container deposit programs in states where they have proven effective in raising recycling rates and encourage states (or the federal government) to adopt well-designed deposit programs elsewhere. The aluminum industry relies disproportionately on states with container deposit laws – where recycling rates are typically twice the rate of non-deposit states – as a  source of high-quality aluminum can scrap. 
Pay-as-you-throw programs: Recycling policies should assign value to recyclable materials and properly reflect the cost of wasting natural resources. Encouraging consumers to recycle more and waste less helps bring back more aluminum can scrap into the system. In developing such programs, policymakers should consider issues of environmental equity to ensure that economically disadvantaged segments of the population are not negatively impacted. 
Landfill Bans: Consider well-designed landfill ban policies as part of a comprehensive recycling strategy. Cans are not trash. And yet, billions of aluminum cans end up in landfills each year. This is not only bad for the environment but also represents the loss of a valuable material stream for the aluminum industry. Landfill bans raise awareness and bring more aluminum scrap back into the system for recycling.
Landfill Tipping Fee Adjustments: Implement policies that increase landfill tipping fees to better reflect the market value of materials being sent to landfills. Recycling policies should properly recognize the true cost of burying valuable natural resources to the extent possible. Landfill tipping funds should be used to bolster recycling infrastructure and increase aluminum can recovery. 
Recycling refund programs (also called "container deposit" or "bottle bills") – which charge a refundable value (usually 5 or 10 cents) per beverage container at the point of purchase – are the single most effective policy to bring back more, high quality aluminum scrap into the recycling system. The U.S. aluminum industry relies disproportionately on the 10 container states and Guam that have deposit programs to provide the feedstock that makes new aluminum cans. An analysis by the Container Recycling Institute shows that while the recycling refund states consume about a quarter of all beverage cans, they generate around 40% of all cans recycled. Further, while recycling rates for aluminum cans average about 40% in non-deposit states, they average more than 80% in states with such programs. What's more, the cans the industry receives back from recycling refund states tend to be far cleaner and of higher quality, making recycling easier and more economical. 
However, not all such programs operate at the same level of efficiency or effectiveness. The Aluminum Association – in partnership with the Can Manufacturers Institute (CMI) conducted an extensive analysis of recycling refund laws in the U.S. and globally to better understand the key attributes of the most successful deposit programs. Using that data, the aluminum can industry developed a shared set of "best practice" principles for effective programs.
The Aluminum Association supports:
Differential pricing:

 Send price signals to both brands and consumers that reflect the actual cost to recycle different types of beverage containers. These signals should reflect which materials the recycling system is best equipped to sort and process. This will reward those packaging types that the recycling system can process at scale, incentivize the leading packaging types to further build on their strengths and lead others to improve the sustainability attributes of their packaging. 

One nonprofit to manage the system:

 Create a single beverage container recycling organization that brands pay for and help lead. This will reduce net system costs and create efficiencies. If the government sets mandatory recycling rates, the organization should be focused on meeting these targets. 

Easy and convenient redemption:

 Ensure that the system is developed with consumers in mind to incentivize material recycling. In most cases, a hybrid system featuring both stand alone redemption centers and retail store access is the most effective approach. Reverse vending machines and innovations like Oregon's

BottleDrop

program should be considered to make the system as user-friendly as possible.  

Including all beverage containers:

 Apply the recycling refund requirement on all beverage containers. Excluding certain container types could incentivize consumers to avoid refundable containers and reduce recycling rates overall.

Using unredeemed deposits on recycling systems:

 Ensure that revenues from unredeemed deposit funds are applied back to recycling infrastructure, access, education and similar programs. This revenue should not go into a general fund. Since consumers paid the deposit as part of a recycling initiative, the benefits from unclaimed deposits should be directed at improving the recycling system itself. 
The U.S. aluminum industry recycles more aluminum today than ever before. Outside of China, the U.S. is the largest single country producer of recycled aluminum. More than 80% of U.S. aluminum production today is recycled (or secondary) aluminum. Further, we collect more than twice the amount of aluminum for recycling today than we did in the 1980s. The aluminum recycling rate in most industrial markets – like transportation or building & construction – exceeds 90%. Recycling aluminum saves a massive amount of energy. Indeed, industry recycling efforts in the U.S. save more than 90 million barrels of oil equivalent each year. To meet increased demand for aluminum in the 21st century, shore up domestic supply chains and address energy and climate challenges, the industry must increase scrap recovery even further and continue the necessary innovation to use secondary aluminum in more applications.
The Aluminum Association supports:
Increased research and development (R&D) investment for recycling infrastructure:

Fund increased research and development to find the technologies or tomorrow that will enable increased aluminum recycling and reduce waste. Improve the quality of aluminum scrap by sorting recyclable materials and segregating alloys. 

Innovation to expand use of recycled aluminum

: Leverage public-private partnership like the Department of Energy's

Critical Materials Institute

and the

REMADE Institute

, to maximize the use of recycled aluminum. Provide grants or research partnerships to better utilize scrap material and develop innovative alloys.
Infinitely recyclable, uniquely sustainable.
More than 90% of the aluminum used in cars, buildings, airplanes and similar industrial products is recycled. Additionally, consumer products like beverage containers are recycled at far higher rates than competing packages such as glass, plastic bottles or multi-layer composite containers. But we must do more to bring back the more than $800 million of recyclable aluminum that goes to landfills each year.
U.S. Aluminum Can Recycling Counter
Each year, the U.S. aluminum industry recycles billions of used aluminum beverage cans. In fact, since the industry starting tracking recycling in 1972, we've recycled more than 2 trillion cans. Here's how many cans we've recycled so far this year.